Only 11 more days to go until Halloween! Who else is counting down the days? I love this time of year. The leaves start changing, the cool breeze comes in, and it's nearing the time where we all get the inkling to snuggle by a fireplace.
But before winter wonderland hits us, let's savor in the Halloween spooky shenanigans, why don't we? And what better movie to spook your socks off than The Shining (1980) starring Jack
Nicholson?
If you've never watched this movie be prepared for some eerie, suspenseful moments. The plot is pretty straight forward. It's about a man who gets a job as a caretaker at a hotel in Colorado who brings his family to live there while it's closed for the winter. As the winter ensues, things start to take a dark turn as the hotel's strange effect on the family sinks in.
I'm not much for horror movies, but this one was particularly satisfying. I enjoyed discovering an underlying message from the story, which is that sometimes getting what you want can lead to very bad things. Jack seemed to get everything that he desired. A winter alone to be with his thoughts and his typewriter. Yet he was never happy or satisfied.
What also caught my attention is the tremendous talent of the actors in this film and how they perfectly portrayed the plot and
story line
. Nothing is as it seems. What is sweet becomes bitter, what is dark becomes light, what is normal becomes strange. Nothing is quite right leaving you to wonder if it's all just a twisted scheme.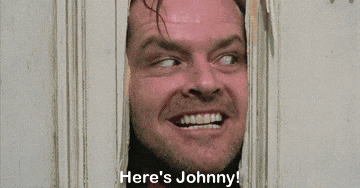 With such contradicting elements, my husband Devin and I came up with a concoction that we believe fits the movie inspired by Stephen King's The Shining and we've fittingly called it "Here's Johnny!"
2 oz. Jack Daniel's Whiskey
2 oz. Black Raspberry Liqueur
A dash of red, blue, and green food coloring
3 dashes aromatic bitters
Combine in a rocks glass over a whiskey cube and garnish with a cherry
Much like an old fashioned, Here's Johnny! Is a mix of the hair of the dog that bit Jack in the first place, aromatic bitters, and club soda but with the added black raspberry and food coloring for the dark onyx hue.
It compliments the theme of The Shining where what looks to be black tar is quite sweet and what might look sweet, is actually black tar.