What an awesome mystery to read during the holidays! James Lovegrove's novel Sherlock Holmes & The Christmas Demon was quite the adventure.
Right from the start, it puts you right in the action as Sherlock chases Father Christmas through a department store and doesn't slow down until you've reached the very last page.
Soon after Watson and Sherlock solve a case right within the first few pages of the book, they are approached by a Yorkshire woman who desperately wants to employ them to solve the case of the Black Thurrick, a Christmas demon she keeps seeing haunting her family's estate.
Of course, the bizarre case tantalizes Sherlock enough that they take the case on the eve of Yuletide and make for the Allerthorpe's estate in Yorkshire.
---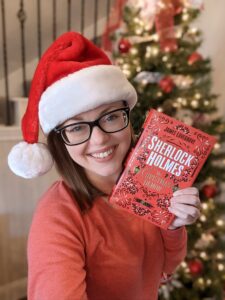 What I loved:
First off, I love Sherlock Holmes books, movies, TV shows, you name it so when I picked up this book I was delighted to see that it was written from the perspective of Watson.
I also really enjoyed that this story took place outside of London and we got to explore a different and unique region that isn't as commonly written about.
The history and Christmas legends that are sprinkled throughout also make for a magical read and if you're searching for a holiday read, I would highly suggest this book. It's not cheesy and the focus is solely on the mystery, the Yuletide traditions only enhance the story so you won't be disappointed.
Also, I want to note how amazing Lovegrove eloquently embodies Arthur Conan Doyle's writing style. Perhaps I've just read too much modern fiction and not enough classics, but the vocabulary that is used throughout this book is at such a high level it's almost intimidating if it weren't for the enthralling story that absorbed me from the start.
---
What I didn't:
This is almost difficult. There were very few things I didn't love which is why this book received 5 stars from me. But if I had to pick something it would be that sometimes Sherlock or another character would have a dialogue sentence that would last an entire page which, for Sherlock, isn't necessarily out of the ordinary. I just much prefer more balanced dialogue, but that might just be me.
There was also a section towards the middle where it felt like it was going to end just a little too soon, but didn't. It was great that the mystery didn't resolve the way I predicted it at that point, but then there was a moment before Sherlock revealed his conclusion that I was able to figure out who the murderer was just a few pages too soon in my opinion.
But it was just barely and I was still surprised so all in all, this was just a very minor thing that doesn't take away from the brilliant mystery.
All in all, this was an excellent holiday read and even if the holidays are now over, I'd still say pick this book up if you want a Sherlock Holmes kind of mystery as this was as traditional a Sherlock tale as one could hope for.

---
Enjoy mysteries and want a little bit more magic? Then you'll probably enjoy my Beaumont Bros. Circus Mystery series!