Happy May, everyone! Did you know that May is the official #GetCaughtReadingMonth? I'm super excited to share with you two places I've found where you can get FREE books for this month only.
Searching your next mystery read for #MayMystery? Then check out this promo site to find free reads for mystery lovers.
Get amazing books like Sell Shock by Andrew Allan, The Donut Shop Murder by Suzanne Jenkins, and so much more all for free this month only!
Click here to read more!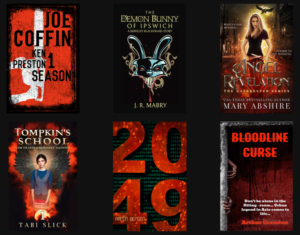 Mysteries aren't the only reads available for free this month. Checkout these thrilling Paranormal and Horror reads at the Critters & Jitters promo page here!
You'll get exclusive freebies like Angel Revelation by Mary Abshire, The Demon Bunny of Ipswich by J. R. Mabry, and even an extended preview of Tompkin's School: For The Extraordinarily Talented!
Click here to discover your next paranormal escape!
Between finishing the edits for Tompkin's School: For The Resurrected, the final book in my supernatural trilogy, and writing The Detective's Nightmare (A Beaumont Bros. Circus Mystery #2) for Camp NaNoWriMo last month, I'm ready to get back into reading!
Currently, I'm reading the Night Circus by Erin Morgenstern and I'm SO close to the end. I'll leave a review as soon as I get there.
If you'd like to keep up with what I'm reading and new releases, I'd love to connect on Bookbub!